Living standards to fall in worst slump since Great Depression - IMF chief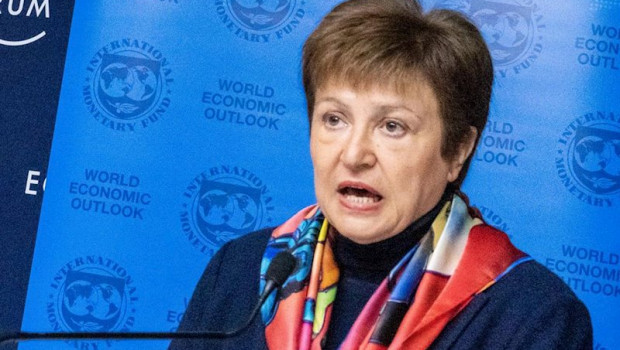 Living standards will fall in more than 170 countries in 2020 as the Covid-19 crisis causes the worst economic downturn since the Great Depression, the head of the International Monetary Fund warned.
Kristalina Georgieva, the IMF's managing director, said the coronavirus emergency was a "crisis like no other" in its speed and severity and that the IMF was prepared to lend $1tn (£805bn) to support governments.
With government's, including the UK's, weighing how long to maintain lockdowns she called on countries to vanquish the virus before relaxing rules to get economies moving.
Three months ago the IMF expended income per head to rise in 2020 in more than 160 of 189 member countries. Now it expects living standards to drop in more than 170 countries as a direct result of the crisis.
"Covid-19 has disrupted our social and economic order at lightning speed and on a scale that we have not seen in living memory," Georgieva said in a speech at the start of the IMF's spring meetings.
"The virus is causing tragic loss of life, and the lockdown needed to fight it has affected billions of people. We anticipate the worst economic fallout since the Great Depression."
Georgieva praised the response of governments, which have announced fiscal support measures worth about $8trn. If the pandemic fades in the second half of the year there will be a partial recovery in 2021 but things could get much worse, she said.
In an apparent rebuke to commentators saying defeating the virus was more damaging than keeping economies working, she said there was no trade-off between saving lives and preserving livelihoods.
"Given this is a pandemic crisis, defeating the virus and defending people's health are necessary for economic recovery," she said.
Governments should spend on health while shielding people and businesses from economic damage using direct funding and the tax system, Georgieva said. Central bank support will provide relief for financial systems and boost confidence, she said. When the recovery starts governments and central banks should be ready with further measures to support growth, she added.
Georgieva said the IMF had $1trn to lend to governments and that it had received more than 90 requests for emergency funding. The IMF is looking at other ways to support countries with existing high debt and is calling for a standstill on debt payments for the poorest countries.
She said the crisis would hurt developed and developing economies but that vulnerable countries would be hit hardest. Low-income nations in Africa, Latin America and much of Asia have weak health systems and densely populated cities, exposing them to demand and supply shocks and potential debt crises.
Emerging markets are suffering investment outflows and falling prices are also hitting exporters of commodities. Remittances from developed nations are expected to dwindle, Georgieva said.
News Sources: © 2020 Web Financial Group (UK) Limited. All rights reserved.
Terms of use and Legal notice